Cary Fitzpaine House Access Statement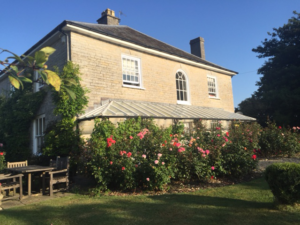 Introduction
Cary Fitzpaine House is a Georgian Manor Farm House.  It is set in a small and peaceful hamlet, set ½ Mile from the main A37.  The House although historic and beautiful, is not always ideally laid out for the needs of our guests.  Hopefully, within this Access Statement we can clarify any restrictions within the House and Gardens which  may  be of concern to our guests
Arrival and Parking
We have plenty of car parking space on a level drive – the surface is gravel.  There are no steps into the house and we are more than happy to assist with luggage.
Main Entrance
The front door is 1 Metre wide with no steps into the hall.  All internal doors leading off the hall are 88 cm wide, these include the Lounge and the Dining Room
Stairs
The staircase has 12 stairs, with a tread of 15cm high, and 20 cm Flat area, the staircase itself is 90cm wide with a strong handrail on the left, this area is all carpeted.
Bedrooms
All three bedrooms are on the first floor and are carpeted and centrally heated.  All rooms are en-suite.  Tea and Coffee making facilities are in all rooms.
Duvets are all high quality synthetic, Pillows are synthetic, but feather pillows are available.  Beds are fitted with electric blankets. Sheets and blankets can be provided (please let us know this when booking).
Hairdryers, additional heating, Fans,extra pillows, blankets, hot water bottles, alarm clocks, Televisions, and tourist information are in all rooms as are chairs for relaxing.
Bedroom one – The Rose Room
Level with top of stairs.  Has 5' Double bed with access from both sides. A sofa and a large armchair are within the room.  This room can be a family room with a put up 3'bed ( full mattress), and a 4' Sofabed, (narrow mattress).
The ensuite bathroom has a bath with a handheld shower, large contemporary basin unit, the floor is tiled with ceramic tiles.  Bathroom is spacious.
Bedroom Two – The Honeysuckle Room
Level with top of stairs. This is a single bedroom, with a 4' 6 bed.  Although cosy this is not a room with much extra space.
The ensuite is a shower with a large basin, cushion flooring. The door to the ensuite is 80cm wide.
Bedroom Three – The Wisteria Room
There are a further three stairs leading up to this room. Handrail on the right  The room has two 3'beds.  There is 1m spare between the bed ends and the wall to walk through to the coffee making, chair, window etc.
The ensuite is a bath with hand held shower (this will be a shower unit for summer 2012), a large basin.  This is a small bathroom 1.8m square. Cushion flooring.
Gardens
We have lovely large gardens with patio areas and seating, the gardens are level with the car parking.
Additional information
The house is fitted with smoke detectors.  If you have a hearing or sight problem, please let us know on arrival.  We do not have special alarms, but if we are aware, we can offer extra help where possible.  There are instructions in the rooms on what to do in the event of an emergency.
We are happy to cater for scecific dietary requirements at breakfast, please let us know on booking.
Mobile phone reception in the house is not great, however it is possible to pick up reception by the windows in most rooms on most networks.  Wi-fi is available.